Fun painting classes for all ages with step-by-step instruction from talented Artists. We have in house private painting parties available to book, and will travel to you for your special event! Call 580-745-5310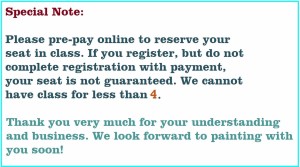 * Note: We reserve the right to cancel class for any reason. If we cancel, then a refund will be issued. Thank you for your understanding.
1. Choose your class based on the picture you want to paint.
2. Register & pay online to reserve a seat for that class.
3. Show up early to get you drink and get settled in to paint! (Wine and beer are for purchase. Not included with ticket price.)